By Jeff Pierce
In our earlier blog post, "What are our devices measuring and why?", we discussed that satellites do not directly measure values of fine particulate matter (PM2.5), but rather satellites retrieve a property called aerosol optical depth (AOD). Our CEAMS measurements of both PM2.5 and AOD help us understand typical ratios of PM2.5:AOD, which can be used to convert satellite-retrieved AOD to surface PM2.5.
AOD is measured from several NASA satellite instruments, including two Moderate Resolution Imaging Spectroradiometer (MODIS) instruments on the Terra and Aqua satellites, the Multi-angle Imaging SpectroRadiometer (MISR) on the Terra satellite, and the Visible Infrared Imaging Radiometer Suite (VIIRS) instrument on the Suomi NPP satellite. These instruments measure the amount of radiation reflected by the Earth in visible and near infrared wavelengths, which can be used to retrieve AOD when/where there are no clouds in the atmosphere.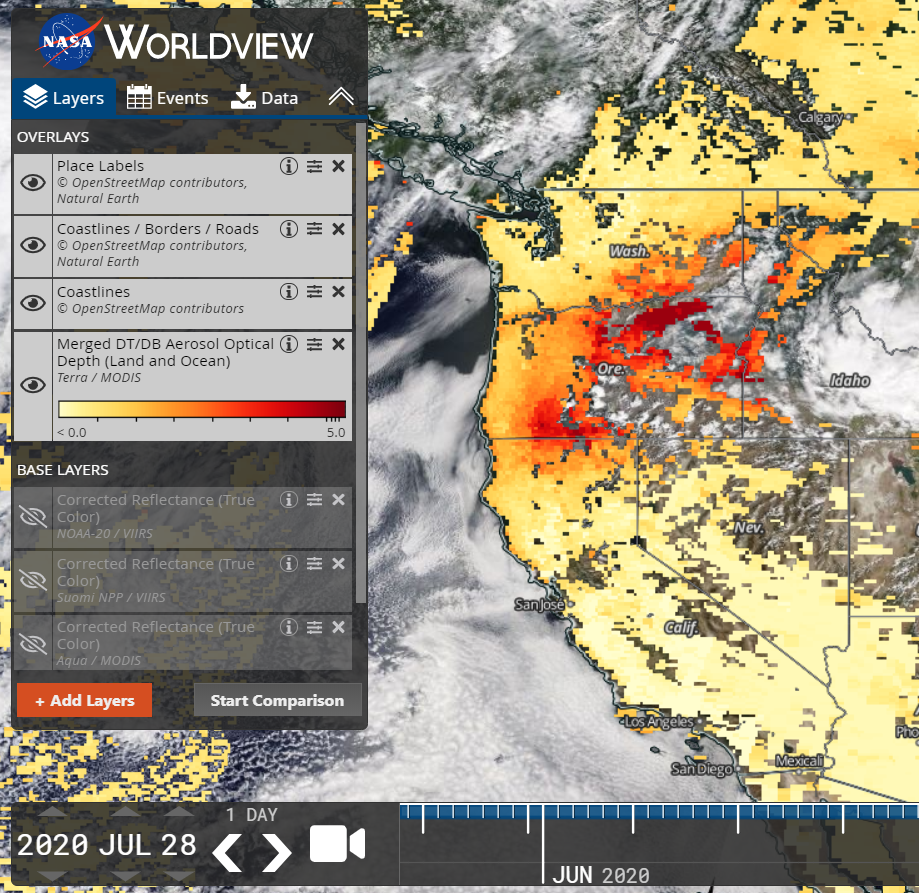 NASA Worldview is a great tool to visualize satellite-retrieved AOD. To view AOD on the map:
Click on the red "+ Add Layers" button on the left, then click on "Aerosol Optical Depth" under "Air Quality".
There are many AOD options to choose from, but for now click on "Terra/MODIS" and then "Merged DT/DB Aerosol Optical Depth (Land and Ocean)", which will give the most complete picture of AOD for the current day. (Note that if you're doing this early in the day, Terra may not have made a measurement over your location yet, so switch to yesterday using the date selectors on the bottom left.)
Exit the layers menu (the x in the top-right corner of the menu).
I like to click on the eyeball for "Place Labels" and "Coastlines / Borders / Roads", and then I drag AOD to the bottom of this list, so I can see place locations more easily.
You can easily toggle through different years, months, and days on the bottom left.
Can you visualize the AOD over the time period of your measurements? Were there days where AOD was higher? Play around to see what other layers you can add.